Recent & Current Projects
Melanie's Kitchen .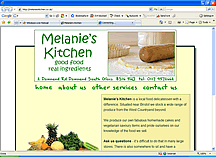 Melanie and Peter Scragg required a website to promote their new delicatessen in Downend, Bristol.
This attractive four page website gives customers up to the minute information on Melanie's Kitchen via a news page which Melanie and Peter are able to upload when required.

Please click the screen shot to visit www.melanieskitchen.co.uk

back to current projects