Recent & Current Projects
Marti Cardy .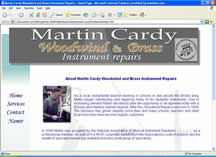 Martin Cardy is a Bristol based business man who deals in the repair and restoration of brass and woodwind musical instruments. He is also a member of NAMIR (National Association of Musical Instrument Repairers).

Martin required a website to show the aspects of his business and act as a link to NAMIR.

Please click the screen shot to visit www.cardywoodwind.co.uk

back to current projects