Recent & Current Projects
Weldcraft Engineering .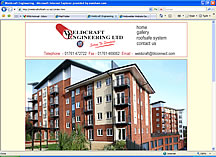 Weldcraft Engineering's Website features an impressive animation sequence on the home page. Weldcraft specialise in the construction of balconies, railings and louvre's. The animation depicts balconies building themselves and finishes with an image of the completed building fading in. The website also promotes their very own Weldcraft Roof Edge Protection System.

Please click the screen shot to visit www.weldcraftofbath.co.uk

back to current projects